I would like to welcome T.M. (Tracey Marie) Frazier to the blog! She is going to talk about her novel, The Dark Light of Day.
A couple of weeks ago I was lying on the beach in Miami, soaking in the great weather and enjoying some epic people watching (think old, overly-tanned, leathery men in itty bitty banana-hammock swimsuits). It was a last minute surprise trip planned by my husband. It was also my 32nd birthday.
My phone buzzed with a text message from FED EX. PACKAGE DELIVERED it read.
"It's here." I smiled and whispered to my husband, holding my hand over my mouth as if I was telling him a secret I didn't want others to hear.
"You stay here, I'll go get it and bring it back." He told me, giving me a soft kiss before quickly throwing on a shirt and heading back up the beach toward our hotel. It seemed like hours before he came back; in reality it was no more than fifteen minutes. I saw him walking briskly down the beach back to me, but still felt the need to text him to HURRY. By the time he reached our chairs he was shaking his head and laughing, and I was a nervous wreck.
"Did you open it?" I asked.
"I was going to, just to piss you off, but I decided not to, didn't want my arm torn off or anything" His damn smile once again saved him from a quick punch to the balls. He handed me the yellow AMAZON package and I tore into it, and out came the most beautiful 253 pages I had ever seen, bound in a black glossy cover. Written in the much debated title font called 'dear joe 4' were the words, The Dark Light of Day by T.M. Frazier.
I did not get out of my chair, I did not leap up for joy. Instead, I looked at my husband with watery eyes and then back down at the book…and then I proceeded to cry like the little bitch I am. Not just a few tears, but an all out, chest heaving, sobbing, hiccupping, ugly cry.
The book had already been out in e-format for a few days. But there is something about being able to hold it in your hands that makes it all real and there it was, right in front of me, with my name on the front and my picture on the back. My dream had come true. It's not an every day occurrence, and being the epic procrastinator that I am, it is a very RARE occasion for me. But there it was, my dream, sitting on my lap where it stayed for pretty much the rest of the weekend. When we went to dinner, it came with us. When we went for drinks, it was along for the ride. As I type this, it sits next to my keyboard.
It was everything I'd imagined and more. And truth be told, it hasn't stopped being everything since.
--------------------------------------------------------------------------------
About the Author:
T.M. (Tracey Marie) Frazier resides in sunny Southwest Florida with her husband and three feisty fur kids.
She attended Florida Gulf Coast University where she specialized in public speaking. After years working in real estate and new home construction, she decided it was finally time to stop pushing her dreams to the back burner and pursue writing seriously.
In the third grade she wrote her very first story about a lost hamster. It earned rave reviews from both her teacher and her parents.
It only took her twenty years to start the next one.
It will not be about hamsters.
You can reach her at TraceyMFrazier@gmail.com
---------------------------------------------------------------------------------------------------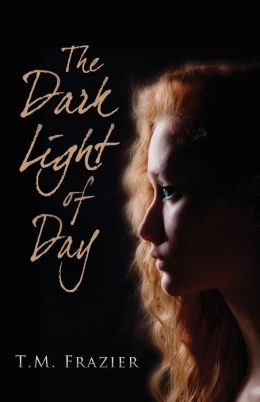 Title: The Dark Light of Day by T.M. Frazier
Genre: Contemporary
Published September 15th 2013 by Booktrope Publishing
Length: 258 pages
Blurb:
Warning: This is not your typical romance. The story of Abby & Jake contains disturbing situations, graphic violence, sex, strong language, drug use, and all types of abuse.
Abby has been through hell and has survived one of the most brutal childhoods imaginable…barely.
To the outside world she's just a loner with an attitude.
When her grandmother dies in a tragic explosion, Abby is left with questions-and nothing else.
Homeless, sleeping in a junkyard, and on the run from a system that has failed her over and over again, she meets Jake, a tattooed blue-eyed biker with secrets that will rival her own.
Two broken souls that can't be healed. They can't be saved.
Abby & Jake must reveal to one another their most guarded secrets and discover if they can embrace the darkness those secrets hold-and the darkness within themselves.
If they can accept one another for who they really are, they might be able to learn that love isn't always found in the light.
Purchase Link:
http://www.amazon.com/