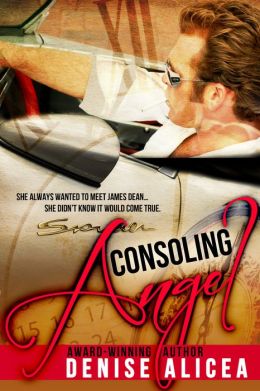 Title: Consoling Angel by Denise Alicea
Genre: Contemporary
Published September 6th 2013 by Book Baby
Length: 24 pages
Rating: 1 Star
Review Copy Provided by Author
Blurb:
Mira did not know what she had in store the day she fell asleep while wanting to escape her current situation. Overcoming a death from someone so close and burying herself in school and an internship has kept her somewhat awake and alive. An admiration for the actor, James Dean was all that kept the memory of her father alive. If she couldn't be with her father, she could at least remember what they shared an admiration for together. She always wanted to meet James Dean… she didn't know it would come true. Be careful what you wish for. It may just come true.
Purchase Link:
http://www.amazon.com/
Review:
This is a short story with a simple, overused plot that unfortunately, has no charm.
Mira is grieving for the lost of her father to cancer. As she goes through an old scrapbook, she remembers an idol both her and her father admired, James Dean. That night, she traveled back in time to meet him and cheer him up.
I wish to know more about the James' legacy and how that affected Mira and who is James as a person. I didn't feel the chemistry between the MCs and that needs to be more developed. The MCs only have a single scene together and it is too short and too fast. Both seem fixated on the other with no reason. I didn't get the point or moral of the story. Why did the time travel happened?
The time change was especially confusing. Mira is a teenager in 2008 and went back in time to her childhood in 1952? I suppose this is in the realm of fantasy but the overall tone and structure of the book doesn't seem fantasy.
I don't think I can make sense of the time travel. Mira also didn't seem too concerned about the time travel and attributed everything to she was given another chance to meet her idol. There wasn't much about James in the story that helped me understand who he is and his personality.
Even though I didn't connect with the characters and didn't understand the story, the story was still well written and the HEA ending was an immense help to end the story with a cheerful and hopeful tone of young love.