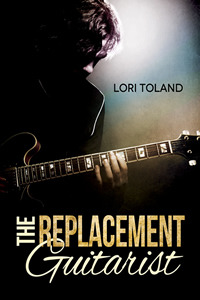 Title: The Replacement Guitarist by Lori Toland
Series: The Replacement Guitarist #1
Genre: M/M Romance, Contemporary
Published September 1st 2013 by Lori Toland
Length: 202 pages
Rating: 4 Stars
Review Copy Provided by Author
Blurb:
Blaze Shinozuka has two goals: get a job as a guitarist and lose his virginity. At an audition for a famous pop star, he draws the attention of celebrity manager Jason Stockton—and their instant attraction sends his world careening off its axis just as he is thrust into the gritty world of rock 'n' roll.
Straight-laced music manager Jason Stockton is always professional and never dips his pen in the company ink. But there is something about Blaze that leaves him wanting what he shouldn't. The guitarist's exotic beauty and compelling innocence is a temptation Jason can't resist.
After one lie in the national media pushes them apart, Blaze must decide whether he will trust Jason, a man he shouldn't touch, let alone love. The cutthroat, jealous world of rock 'n' roll, has chewed up and spit out the toughest musicians, and Blaze vows he will be the last man standing, even after the music stops.
Purchase Link:
http://loritoland.blogspot.com/
Review:
I love the unique setting of the book that shows more of the back stage scenes of the music world. Blaze, the up-and-coming guitarist, lands a job with a tour band of a platinum recording artist and also, the celebrity manager, Jason. Midst his success, he combats media lies, disappointed parents, and family troubles while trying to keep his relationship with Jason afloat.
Blaze, the new guitarist with an amazing talent and passion for the guitar, is the most developed character in terms of his back story with his family and character growth through his romance (and obstacles) with Jason. I love how he deals with his family troubles and sympathize with him. Blaze's parents
still hold a grudge against him for playing the guitar rather than the piano and
repudiate
a gay son. He also have unresolved challenges with his grandma who he hasn't "come out" to yet. Through all his blunders and misfortune, he really found a niche in Jason's world and makes a HEA ending with him together.
Jason, the manager of the band, is popular, professional, and in charge of multiple famous music artists. He is a great guy in general, but the one thing that keeps sticking to my mind is how he keeps mentioning he wants to bottom since the first time he saw Blaze. I keep waiting for that to happen and then it finally happens several months later. The time lag on that is funny and it kind of says something about Jason's personality and character.
The book's shortcoming lies in the transitions of events. Whenever there is a crisis in Blaze's and Jason's relationship, it always comes unexpectedly and abrupt, like Cassie's meddling and Blaze's once in a blue moon drug use. It always surprises me and then it resolves as soon as it came. I prefer the conflicts to be drawn out a little bit more to show how characters' thoughts and feelings evolve. Also, Cassie's character never evolved for me. She is the bitch that is trying to destroy Blaze's and Jason's relationship and I can't think of her as being this amazing person just because Jason said so.
This book is unusual in that it doesn't focus on the musician's rock-star life
with stage performance and fan interactions. However,
I do wish we were given a glimpse of Blaze's onstage performance especially since one scene is perfectly set up for it.
Overall, this is a great book for music fans and I would definitely recommend it for its characters, music scene, family drama, and the character's lasting commitment for love and family.