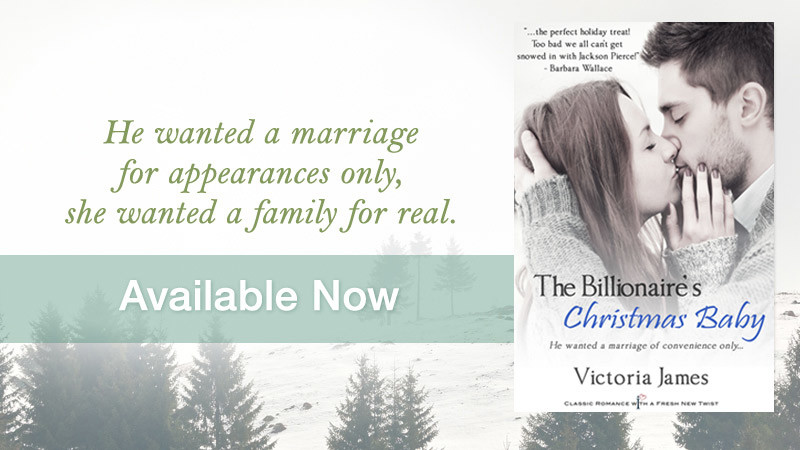 Giveaway: Victoria will be awarding the first two books in the Red River Series (A Risk Worth Taking & The Best Man's Baby) + $20 Amazon GC to a randomly drawn commenter during the tour.
---------------------------------------------------------------------------------
Title: The Billionaire's Christmas Baby by Victoria James
Genre: Contemporary Romance
Published November 19th 2012 by Entangled Publishing (Indulgence)
Length: 184 pages
Blurb:
Jackson Pierce didn't make his fortune entertaining every half-cocked idea, especially one involving diaper changes. Not even the cute brunette who links him to the baby in her arms can crack his icy heart.
A baby on the doorstep is the least of Hannah Woods's problems—she has to find the baby's uncle, or the child will end up in foster care. She sleuths her way to the reclusive CEO's doorstep only to find six feet of holiday sexy—and a door slammed in her face. But when Jackson comes around and urges they marry for little Emily's sake, Hannah finds herself falling for the jaded billionaire and wishing for a holiday miracle of their own…
Book Links:
Amazon
,
Barnes & Noble
,
Entangled Publishing
----------------------------------------------------------------------------------------------
Top Ten Favourite Things about the holidays-from my hero and heroine, Jackson and Hannah…
Now, they gave me this list prior to them meeting…so they are at totally opposite spectrums when it comes to the holidays.
Jackson Pierce
1. Being alone.
2. Going to my cabin.
3. Not hanging Christmas lights.
4. Not having a Christmas tree.
5. Not seeing people (because my cabin is in the middle of nowhere).
6. Not shaving (because no one comes to my cabin).
7. Not answering the 'what are you doing for Christmas' questions (because I'm at my cabin).
8. Not listening to Christmas music (I don't have to listen to it at my cabin).
9. Not having to pretend to like Christmas (because I don't see anyone at my cabin).
10. Not having any Christmas decorations.
Hannah Woods
1. Spending time with people in need.
2. Helping orphaned children have a special Christmas.
3. Hanging Christmas decorations.
4. Trimming the Christmas tree.
5. Lights, lights, lights.
6. Christmas dinner.
7. Spreading Christmas cheer.
8. Christmas shopping.
9. Christmas baking.
10. Believing in the magic of the season.
--------------------------------------------------------------------------------------------
Excerpt 2:
This cabin was his anti-Christmas sanctuary, a place where there was no talk of family. No talk of Christmas. The only evergreens were outside and not one of them had a single damn light on them, just the way he liked it. But now he was being forced to harbor some strange woman who knew a hell of a lot about him and who had something to do with his sister.
He watched as she continued to brush the snow off her pants with one hand and hold that tin with the other.
"Look, I'm not going to let you sleep in your car during a blizzard."
She stopped her swiping and cocked her head to the side. "Well, I guess you should have thought of that when you slammed the door in my face. It's not exactly the best way to make a guest feel welcome."
Jackson opened his mouth and then shut it, not knowing what to say. He was not a man used to being argued with. He had gotten used to the quick "yes, sirs" that he received from hisemployees.
She shot him a dirty look as she walked past him. He caught her arm. For a momentnothing happened and then she turned into steel beneath his grasp. Her eyes widened and she stared at him. He was trying to decipher the expression when she jerked her arm from hisgrasp. He noticed her breathing was shallow and rapid. That confidence she had shown only seconds before was gone. This woman felt threatened by him. His exes could say a lot about him, but violent was not an adjective used to describe him. He abhorred physical violence, and he'd never touched a woman in anger.
"I can't let you stay out here. I have a guest room," he said, trying his best to sound patient and calm.
She stared at him for another minute, then raised her eyebrows as she spoke. "Are yougoing to yell at me again?"
He shook his head sheepishly. He felt like he was being reprimanded like a small boy.
Her face relaxed and she gave him a slight nod.
"Fine. I've met crazier people than you and I know how to handle myself. I'll stay."
He stared at her incredulously. She'd called him crazy.
"On one condition," she said raising her chin and folding her arms.
"Condition?" She had barged in on his vacation and now she was negotiating terms of her stay?
She nodded once, the pom-pom bopping with the motion.
He gave a brief nod, why the hell not, it seemed he had very little control of the night anyway.
"No yelling in front of the baby," she said over her shoulder as she opened the back door of her car. Her head disappeared into the car and he stared numbly after her. Maybe he hadn't heard right, but then he heard an odd noise.
"Baby?" he finally managed to choke out through a throat that seemed to be filled with tar as she emerged from the car holding a baby seat.
---------------------------------------------------------------------
AUTHOR Bio and Links:
Victoria James always knew she wanted to be a writer and in grade five, she penned her first story, bound it (with staples) and a cardboard cover and did all the illustrations herself. Luckily, this book will never see the light of day again.
In high school she fell in love with historical romance and then contemporary romance. After graduating University with an English Literature degree, Victoria pursued a degree in Interior Design and then opened her own business. After her first child, Victoria knew it was time to fulfill the dream of writing romantic fiction.
Victoria is a hopeless romantic who is living her dream, penning happily-ever-after's for her characters in between managing kids and the family business. Writing on a laptop in the middle of the country in a rambling old Victorian house would be ideal, but she's quite content living in suburbia with her husband, their two young children, and very bad cat.
Victoria loves connecting with readers, you can find her online at:
Goodreads
,
Facebook
, Twitter: @Vicjames101,
Website
/Blog
-----------------------------------------------------------------------
Giveaway:
Victoria will be awarding the first two books in the Red River Series (A Risk Worth Taking & The Best Man's Baby) + $20 Amazon GC to a randomly drawn commenter during the tour.
a Rafflecopter giveaway
You should follow the tour and comment. The more you comment, the better your chances of winning! The tour dates and stops can be found here:
http://goddessfishpromotions.blogspot.com/