Chacelyn will be awarding a $15 Starbucks GC and free digital copy of The Emperor's Treaty to a randomly drawn commenter during the tour.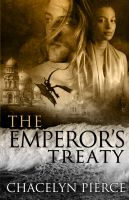 Title: The Emperor's Treaty by Chacelyn Pierce
Genre: Fantasy Romance
Publication Date: December 25, 2013
Length: 256 pages
Rating: 3 Stars
Review Copy provided by author
Blurb:
The Emperor's Treaty (The Calaeron Duology, #1) Arryn, the newly crowned Emperor of New Phalba, must find a means to strengthen his kingdoms from impending foes. To end a blood war that has carried over millenniums, he petitions to marry one of his race's mortal enemy—the Moekan dragons' crowned princess. Even though the bond with the Moekan dragons will aid against a looming attack on his empire, Arryn can't help his attraction to the dragon princess Shann living in his palace.

Eager to make the best of her situation and please her new husband, Shann is willing to face the challenges of a dragon ruling the Fae Empire. Winning his trust proves to be a tougher challenge with odds stacked against her. Will the lies about her cause Arryn to break the new peace treaty? And can she stop him from starting a war that will change everyone's future?
Purchase Link:
Amazon
,
ARe
,
Smashwords
--------------------------------------------------------------------------
Excerpt 3:
When Shann finally reached Kell and Arryn, she stood blocking Kell's killing blow. Arryn had been hurt from Kell's tail lash and attempted to catch his breath while dodging snapping jaws and talons as he rolled on the gauntlet of scattered supplies and tent fabrics.
Kell halted his strike and roared at her for being in his way.
"Stop this, Kell!" He reeled back and snarled in Shann's face. Drool dripped and frothed from his mouth. Arryn moved behind her, but out of the corner of her eye she noticed he rose up on unsteady feet, already preparing for the next attack. Seeing her husband so out of breath and weak angered her, because she knew if he wanted, Arryn could fight back, but he'd held off. In fact, a lot of the Phalbans were only blocking attacks; none advanced. The Moekans seemed to be the ones thirsty for bloodshed, and she felt a moment of sadness that she'd told Arryn that the peace meant more to her people that the Phalbans. It was clear that years of anger had caused Moekan blood to boil hotter than the Phalbans', but enough was enough.
Shann turned back to her brother. "Call them off." She nodded to the anarchy surrounding them. "Please, Kell," she begged.
His reptilian face hardened, and his massive clawed hand tried to push her out of the way. He wanted to finish Arryn off with no regard to the sworn oath. Only this time Arryn had a sword pointed at the ready. The small sword wouldn't do anything against the hundred razor-sharp teeth in the Moekan general's mouth. Plus, Shann had noticed Arryn's foot was twisted at an odd angle that could make maneuvering away damn near impossible.
--------------------------------------------------------------------------------
Review:
2.5 stars rounded to 3 stars
To end the war between fae and dragons, a fae king will marry a dragon princess. Arryn, the fae king, is new on the throne and after a long period of warring with the dragons, decides to marry a dragon princess to bring peace. Shann is the dragon princess sent to New Phalba to be the queen, but no one expects her to come in human form. The Phalbans are wary of their new queen and distrustful about dragon culture. Combined with threats from inside New Phalba as well as outside, Arryn's marriage with Shann may not save their kingdoms after all.
I love the idea of the fae and dragon marrying to end war and keep peace, even though the idea isn't novel. The romance is a nice touch and contrasts well with the mystery and warring attitude of the fae court.
Shann's character grew during the story. She started out as a shy, inexperienced princess to finding courage and trust to become an empress. It's interesting to read about how she adjusts to life with the fae, who have totally different customs and a hostility towards the dragons.
Arryn, on the other hand, feels very much like a storybook character. He's subjected to all the circumstances in the story and reacts in a way the author wants. He falls in love with Shann almost immediately but casts her out at the first hint of deceit to build up the drama. His character is not willful or compelling, so he's not memorable for me.
The ending almost seems like a cliff-hanger ending. There are many loose ends that I wanted to be resolved. For example, the story is missing a piece about Shann's brother and father and how they will handle the new changes in the royal family. I didn't get the feeling that Phalbans were reluctant to go to war and the soldier's reluctance to shed blood at the end seems unnatural. There's got to be some more resistant among the Phalban people. The revealing of the traitor is very sudden and unexpected. I think the whole mystery and suspense can be more intense and a better plotting would benefit the story a lot.
Overall, I love the world building, but this will not be my go-to story for romance.
-------------------------------------------------------------------------------------------------
AUTHOR Bio and Links:
A rocker by heart, Chacelyn Pierce is constantly ear plugged with heavy tunes blaring to stir up the phantom personalities that swarm her mind. It's no surprise that she enjoys writing and reading to satiate her appetite for the male antagonist in a story. Married to a blatant redhead and mothering a diva, there is never a dull moment in the house. As a native Texan, she doesn't personally own a horse but follows the unwritten southern rule of knowing how to ride one. When she's not testing the emotional capacity of her characters, she works as a dog groomer.
Author Links:
Website
,
Facebook
,
Twitter
-----------------------------------------------------------------------
Giveaway:
Chacelyn will be awarding a $15 Starbucks GC and free digital copy of The Emperor's Treaty to a randomly drawn commenter during the tour.
You should follow the tour and comment. The more you comment, the better your chances of winning! The tour dates and stops can be found here:
http://goddessfishpromotions.blogspot.com/